Remarried Empress - Chapter 455
Chapter 455 – Unexpected Events (2)
Translator: Aura / Editor: Tiny Zebra
Heinley sent a reply to Sovieshu for me. The next day, he left to retrieve another mana stone, and Kapmen and Dolshi came unexpectedly to visit me.
"Dolshi wants to test you before teaching you how to master your magic."
However, it seemed that this was just a pretext. I knew it the moment I saw Dolshi come in with some drawings.
"Here you go."
Each drawing was a depiction of a splendid shiny wall, so it was clear that it was not Dolshi's work. When I accepted the drawings, Dolshi winked at me as if he was handing a bribe.
Except that bribes must be carefully selected. It must be something desired by the person from whom one wants to obtain a favor, rather than something wished for by the one offering the bribe…
It was absurd, but given my suspicions of who Dolshi really was I didn't dare to reject the drawings, so I put them away.
As if he at least had some self-awareness, Dolshi smirked.
"I'll take a look at your magic. Isn't there a more spacious place?"
"Outside…"
"Not outside. Somewhere private."
I led them to an empty room on the first floor. It was set aside for meetings, and although it was spacious, there was almost no furniture other than a small table and chairs.
"How about here?"
"Yes, this room is fine."
Dolshi sat down, then turned to me with a serious expression, as if he had decided to evaluate me properly.
"First of all, let's see what you're capable of. I want you to use your magic to the best of your ability."
I nodded and took the small bell. As I was about to call my butler to order a bucket of water, Dolshi stopped me.
"Hang on, funny-named lady."
Dolshi pointed his hand at the small bell.
"What are you going to do?"
"I'm going to ask for a bucket of water."
"Do you intend to freeze only water all your life? If you want to master your ice magic to drink cold water, I suppose it is useful, but if you don't want to stop there, you must forget that method."
In my practice sessions, I had always focused on freezing things.
How was I supposed to do it then?
When I looked at him in bewilderment, he raised his chin.
"Just release your magic."
At first, I felt anxious because I didn't understand what I was supposed to do… but, come to think of it, I had indeed used ice magic out of thin air before, hadn't I? Like when I instinctively deflected Duke Zemensia's fall…
I nodded and awkwardly raised my hands. I wasn't used to it, so I felt like an eccentric mage with my hands in the air like this.
Still, as I focused my attention, a thin ice-like substance appeared around my hands and fell to the ground.
'It worked!'
However, when I glanced sideways towards Dolshi, he was unimpressed.
"You're too weak."
I felt a little defeated and lowered my hands. Grand Duke Kapmen quickly took my side.
"Why? Isn't it impressive that she accomplished this in such a short time?"
"Don't you know you are no good at lying?"
This made me upset. Deep down, Grand Duke Kapmen also thought that my skill as a mage was poor. He avoided my eyes when I shot him a sharp look.
Well, he had been one of the academy's top graduates after all… I felt even more sullen.
"Funny-named lady. You know who wants you to use magic like that?"
"The enemy?"
"Correct."
Dolshi pointed upwards and said,
"Try it again."
If I knew how to do it, I wouldn't have asked for his help…
***
Dolshi nagged me for about two hours. Frankly, he didn't help me at all.
At least he helped me realize that magic is self-taught. I had to perfect my magic on my own.
Dolshi did nothing but criticize me from the comfort of his chair during these two hours, but he rubbed his neck and groaned.
"This is tiring, really tiring."
He stretched out in the chair and said,
"I want coffee."
When I glared at him, he even went so far as to mock me.
"Ah, I forgot. You can't drink coffee."
'He's so cocky that he must be the dragon. He's a rather irksome dragon.'
I only complained inwardly while I kept a serene expression. I called a servant and instructed him to bring coffee and refreshments.
Dolshi seemed to be truly hungry. When the food arrived, Dolshi was excited and ate relentlessly.
At the same time, he talked to Kapmen about subjects that I didn't know anything about. Kapmen had something to say about all of them.
'They seem to be good friends.'
It was curious to see Kapmen, whom I considered a prim and rigid noble like myself, respond to Dolshi's unscrupulous remarks without a moment's hesitation.
Slowly I also became interested in their conversation. Dolshi talked about endless deserts, mountain peaks that pierce clouds, and huge many-legged monsters that emerge from the ocean.
The world he described was a far cry from my life in the imperial palace, surrounded by elegance, soft perfumes, exquisite silk, and fine music.
Still, his life seemed to have its own charm.
As I listened to the two of them in silence, Dolshi suddenly changed the subject with a twinkle in his eyes.
"Kapmen."
"What?"
Dolshi leaned forward and spoke quietly.
"You mentioned something about a love potion in one of your last letters. You wanted to find a way to reverse its effects."
Kapmen shuddered, and so did I, but Dolshi didn't notice.
"Did you get rid of the effects?"
Apparently, Grand Duke Kapmen had also asked Dolshi for help with the love potion.
"… I did."
"How?"
"I don't know how to explain it."
I didn't feel much interest in that subject, so I awkwardly picked up a cookie and munched on it.
Dolshi, on the other hand, found the subject of the love potion fascinating and spent the next half hour questioning Grand Duke Kapmen about the potion, its side effects, and forming conjectures about possible antidotes and how the Grand Duke was finally freed of the effects.
In the end, he asked,
"Kapmen, do you have any of that potion left?"
When Kapmen stared at him with a frown, Dolshi grinned.
"Give me one."
"What for?"
"Just give it to me."
A confident smile spread across Dolshi's face. With apprehension, Kapmen asked,
"What are you going to do?"
Dolshi responded as if it were obvious.
"I'll drink it."
Kapmen was incredulous.
"What are you talking about? Didn't I just tell you how much it made me suffer?"
However, Dolshi was stubborn.
"It won't happen to me, I'm not that weak. Still, it's fascinating that it had such a powerful effect on you."
Kapmen's eyebrow was twitching, but Dolshi continued to pester with the same stubborn insistence of a child.
"I'm curious to know what it feels like. Give it to me. I'm a great mage, so I can counter it quickly."
I didn't know dragons were such obstinate creatures. Just as Dolshi continued to bring me drawings and designs ever since he found out about the Jewel Dam… now he seemed determined to obtain Kapmen's potion by any means necessary.
With a startle, I saw something flash red inside of Dolshi's eyes. The energy around him suddenly became menacing. His eyes sparkled with malevolence.
Eventually, Kapmen reluctantly stood up and left the room. I assumed he would fetch the potion.
Once the door closed, Dolshi turned to me.
"If you're well rested, funny-named lady, get back to practice."
When I made ice powder out of thin air for the umpteenth time, the Grand Duke returned with the potion.
Grand Duke Kapmen handed Dolshi the small bottle in his hand.
Giggling, Dolshi seized the bottle from him like a rascal.
"Dolshi, I am warning you…"
Despite Kapmen's efforts to dissuade him once more, Dolshi removed the cork and drank directly from the bottle before Kapmen finished his warning.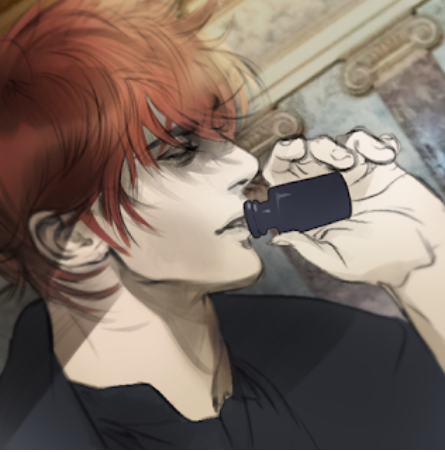 "!"
Kapmen and I hid under the table at the same time. It was a reflex provoked by our devastating experiences with the potion.
"It doesn't taste like anything… What? Why did you two hide? I need to see someone's face for the potion to take effect."
Kapmen shook his head, to stop me from leaving my hiding spot. Since I agreed, I nodded.
Dolshi had claimed that he could counteract the potion immediately, but I didn't want to take any risks. It could also have side effects for Dolshi.
"Which of you will volunteer?"
Annoyed by the situation, Dolshi began to tap on the table behind which we were hiding.
Still, Kapmen and I crouched still as dead, so he laughed and said.
"If neither of you will volunteer, I will choose instead."
He stood up, and his chair fell to the floor. At the same time, I heard the door open.
"Your Majesty!"
It was McKenna's voice.
I looked up, perplexed and my eyes met Kapmen's. We both knew what was about to happen and hurriedly stood up at the same time.
Dolshi's gaze was already on the door.
I swallowed dryly. Will it take effect?
Come to think of it, he's a dragon, so hopefully…it's unlikely… Right?
Just then, Dolshi pointed towards McKenna and asked me,
"Who is that lovely little blue bird, so blue like it's made out of the blue sky itself?"